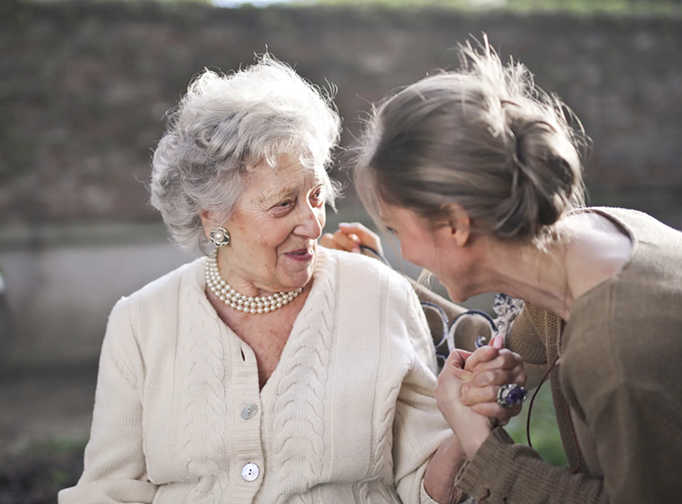 You've decided it's time to make a lifestyle change. You want more in your senior years. More activity options. More friends around. More security. Perhaps more care support. Definitely less housekeeping and maintenance. But with the same precious independence you enjoy now. Your decision to start the journey is made. Now, how do you tell your family, especially your adult children? Read on to learn more about the role of family engagement in senior living.
What might you expect?
The nice thing is, you're not the first older adult to be confronted with this tough situation and the conversations that may follow. We'll share here what we've learned at The Carrington at Lincolnwood from other families met with the realization that their parent wants or needs the additional support of a home companion, in-home care or a move to a residential community.
First of all, talk about it. You can expect your children and/or family members to have questions. Don't fear the discussion or deny the realities of aging. It's no one's fault you're growing older. Don't feel guilty. You're just getting together as a family to make changes and create a solid plan for your future.
Communication, transparency and positivity will be key as you journey forward together. Handled appropriately, this decision-making process can be rewarding and unifying for all of you. If you're still healthy, well and independent, it's actually the best time to make smart decisions about the future as no unexpected health crisis is influencing this change and causing everyone to make a rushed decision.
Communication is essential.
Leave no family member out-of-the-loop. Share all your thoughts, wishes and questions for the future with your adult children—spouses and siblings, too. Everyone needs to understand the reasons for your decision, what YOU want, as well as the advantages they could enjoy as you figure it out as a family.
Be sensitive. After all, you're not the only one transitioning to a new lifestyle. Your family needs to prepare for this major change, too. They may be losing a family home; a neighborhood they still love; childhood memories. There are bound to be mixed feelings. Let those feelings be known. This is not the time to brush your thoughts and ideas under the carpet.
Transparency in planning.
Primarily, it's YOUR life we're talking about, but after you announce your wishes, get each family member involved in planning for the journey. Decide, as a group, what family member—based on individual talent—is best to investigate particular details of this decision-making process. You might need:
A Mediator. Someone willing to gain a clear understanding of your living options and which best fits your wants and needs. Like The Carrington, numerous communities offer independent living and various levels of care, as well as valuable lifestyle programs. Your mediator should communicate the options to you and all family members, keeping everyone informed of the lifestyle you desire and where you want to live it.
The Search Committee. Where will you live next? What's important to you in residential community living? How do you see your future? Your search committee should have a methodical plan for researching and on-site visiting. Pick your top three places, visit, take great notes, eliminate and add more, if necessary. Remember, the final decision must be yours. Do not relinquish control. No one wants to hear: "This is where my children want me to go." Confirm YOUR choice with: "This is the best decision I ever made."
The son of one of The Carrington residents shared on his community visit: "Mom and Dad liked that The Carrington was brand new and beautiful; and an outdoor living space was also important. The day we visited, Mom said, 'I could see myself living here.' And Dad now spends every day in the spring, summer and fall on his enormous balcony."
Another adult child of a current resident of The Carrington had a unique "shopping" technique: "I walked into a few communities unannounced just to talk to people—residents and staff—without having anyone prepared for our visit. We decided on The Carrington because I observed the residents were genuinely happy, and the staff was more than accommodating and friendly."
A Real Estate Guru. If this is your first major move, you'll want someone to handle the prepping, listing, selling and moving from your current home. Even if you've moved before, there will be right-sizing matters to address in adapting to your new living space. Let a family member drive those efforts. The Carrington has family resources available to help you with downsizing and moving.
A Legal Professional. Are there documents to prepare? What about future medical directives? A family member needs to be put in charge, even if a third-party is called in to advise.
Financial & Insurance Advisor. Every family needs a money specialist! This family member will manage the financial assets and cash flow to ease concerns about the affordability of your new lifestyle.
You may need to delegate other responsibilities. Every family is different. Just be sure to include everyone in this important decision-making process.
Positivity
It sounds like a lot of work—and it is—but there are special benefits for you and your family.
When was the last time you took on a project as big as this—as a family? At The Carrington, we've personally seen this approach draw siblings closer together, promote a greater appreciation of life and relationships, and foster a deeper understanding of what the future could hold for a senior parent or loved one. Here are more benefits an open-minded family may enjoy by taking this journey together:
Set a parent's mind at ease.
Reduce the likelihood of surprises.
Expedite the decision-making process.
Foster strong relationships with the new community.
Positively impact a senior's physical, mental and emotional health.
Make sure The Carrington is on your family "visit list." You'll find everything you want here. Not quite ready to visit? Stay in touch through our website and Facebook page. Call (847) 744-9469 or complete our online form to schedule a virtual conference or community tour.
This wonderful new resource to Chicagoland features how The Carrington is keeping residents safe and engaged during COVID-19 via closed-circuit television programming. Check out page 36 for an article featuring The Carrington on care during COVID-19.