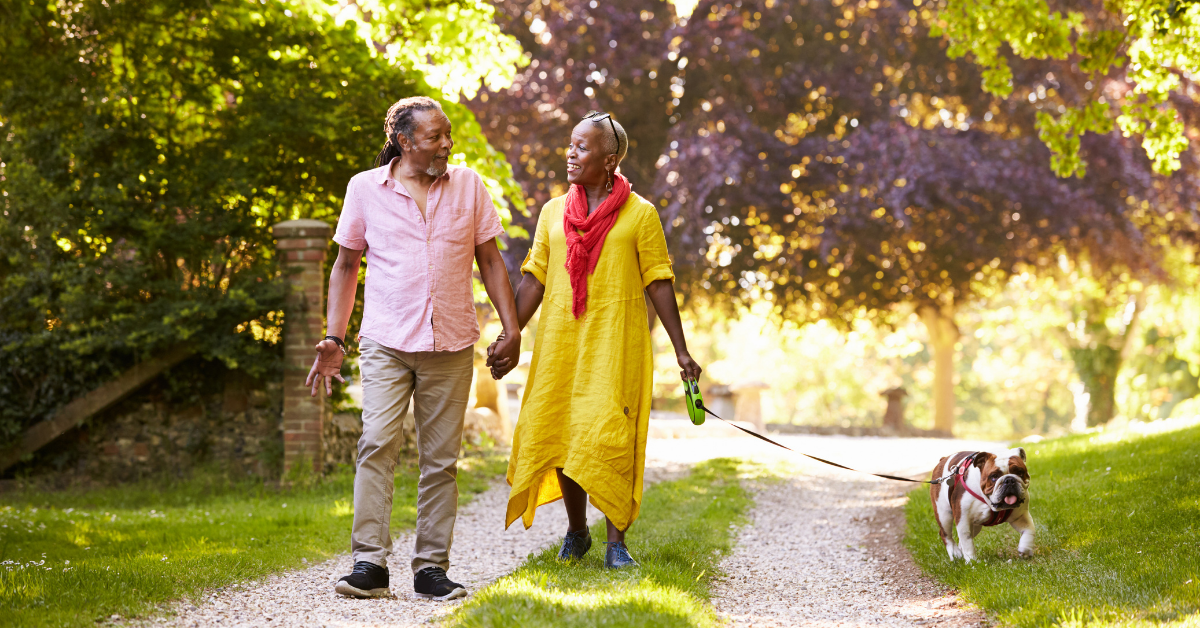 No one wants to be called old. And today's seniors—more than any generation before them—are refusing to accept this label. They're an optimistic group who want to follow a healthy lifestyle, remain positive, be passionate about life, and look forward to their best days ahead. Join them in September to celebrate Healthy Aging Month!
In 1992, the Healthy Aging® organization created Healthy Aging Month, just as the first baby boomers were about to turn 50. It was designed to draw attention to the importance of healthy lifestyles for adults 45-plus. The truth is, more and more older adults are finding that senior living communities can improve or help maintain their active lifestyle into the future, and, in turn, improve their health. How, you might ask? Let's take a look.
Senior Living Communities Promote Healthy Aging
The United States Department of Health & Human Services (HHS) identifies four major pathways to healthy aging:
Staying involved within your community
Adopting healthy habits and behaviors
Using preventive services
Managing health conditions
The lifestyle you'll find within a senior living community can magnify your opportunity to fulfill all four of these elements through increased programming, choice and learning opportunities. And if your community of choice is The Carrington at Lincolnwood, you'll find every lifestyle element has been crafted to promote a culture of engagement and well-being, while keeping safety and security in mind.
Staying Involved
Many seniors will say they prefer to age-in-place. When, in reality, aging-in-place can often contribute to a faster decline of overall health. Take loneliness, for example. Research has shown that isolation can become one of the biggest health risk factors for seniors who live alone, leading to depression, diabetes, obesity and more.
At The Carrington, you don't have to sacrifice independence. You'll find your active lifestyle . . . only better—and healthier—than you ever imagined. What's more, you'll be surrounded by inspiring, interesting, active neighbors and new friends who enjoy the same things you do. The Carrington activities staff adopted a resident-centered approach to planning events, excursions, activities and learning opportunities so residents are constantly involved in what they enjoy most.
Adopting Healthy Habits And Behaviors
Exercise and physical activity are considered a cornerstone of almost every healthy aging program. This is another benefit of a senior living community lifestyle. Communities like The Carrington plan activities designed to keep your body moving. Plus, they help you continue to do the things you enjoy. These activities support your independence and health as you age. Specifically, regular exercise and physical activity can reduce your risk of developing some diseases and disabilities—such as osteoporosis, arthritis, high blood pressure, diabetes, heart disease and more—that often occur with aging.
Along with an increased opportunity for more physical activity, good nutrition for seniors is especially vital for healthy aging. At The Carrington, Executive Chef Jose and his staff put considerable thought into all of their menu options in order to provide residents with variety, choices and healthy food options. Read more about Dynamic Dining at The Carrington.
Using Preventive Services
Senior living communities are just more connected when it comes to all the details and healthy aging information you may need to access as you age. These might include special state and national programs like Medicare, Medicaid and U.S. Military benefits, as well as critical tip sheets and resources on everything from Falls Prevention and Generic Drugs to Alzheimer's Disease and Hearing Loss. In addition to quick and easy access to this information to help you age healthfully, senior living communities often sponsor presentations and seminars on preventive services, as well as clinics for vaccines you may need throughout the aging process.
At The Carrington, we want all residents and their families to feel they can trust the professionalism of the entire staff when it comes to an unprecedented environment of safety and security. All residents and their families can also feel safe knowing their neighbors are fully vaccinated for Covid-19. Additionally, the staff follows strict CDC safety precautions. Take it from Susan, the daughter of a resident:
"The staff has impressed me with the kindness, respect and understanding they have shown my mother. Thank you especially for all your hard work in keeping The Carrington safe, clean and [a] wonderful home for all residents."
Managing Health Conditions
Senior living communities will offer one or more levels of care in addition to Independent Living. Do you want to continue to lead your active lifestyle without worrying about future healthcare concerns? Then, this is a wonderful healthy aging benefit that reduces stress later in life. There's always someone there for you in times of emergency.
The Carrington takes a holistic approach to care and believes there's no such thing as one-size-fits-all. This is why the community's MOSAIC care program is composed of three levels of person-centered care. Each level consists of a full range of customizable services that deliver exceptional, individualized care designed to satisfy the needs and wants of each resident. MOSAIC allows you to live your best life, even as health changes occur.
The Carrington Celebrates Healthy Aging
We hope you'll join us this month and let us show you our inspiring lifestyle. Schedule your in-person tour today.