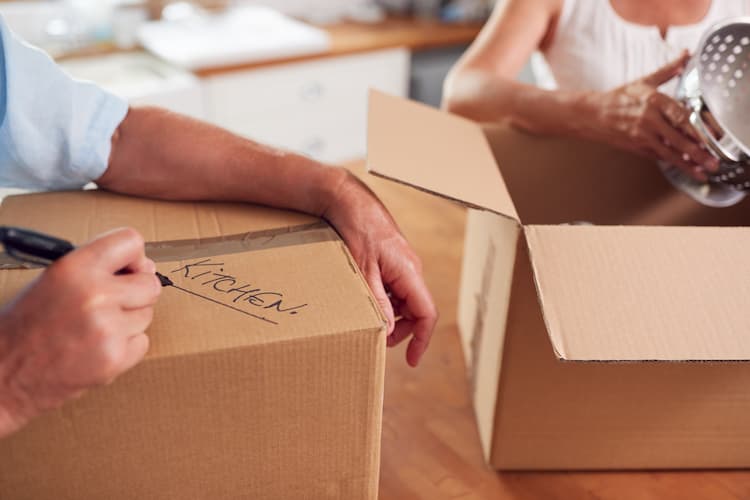 Our priorities and needs can change as we age, leading many older adults to consider downsizing their homes and transitioning to a senior rental community customized to how they want to live.
Whether it's to streamline expenses, simplify responsibilities or have access to higher levels of care, downsizing and moving to a senior living community like The Carrington at Lincolnwood clears the path to a superior retirement experience.
STRATEGIES FOR A SMOOTH AND MANAGEABLE MOVE
Downsizing and moving can be overwhelming and stressful, especially considering the number of possessions we accumulate after living decades in the same house. The move-in specialists at The Carrington offer these tips for seniors moving to help you feel more in control of the process.
Start early and take it slow. Giving yourself plenty of time to sort through and pack your belongings is essential. Start the process early and take it one step at a time to help you avoid feeling overwhelmed.
Have a plan. Make a plan for your move that includes a timeline, budget and list of tasks to complete to help you stay organized and reduce stress during the moving process.
Hire movers. Leave the heavy lifting to professionals who can assist you with decluttering, packing, organizing and moving your belongings. The Carrington partners with well-known local packers and movers to provide new residents with relocation assistance.
Ask for help. Don't be afraid to ask for help from family and friends who can assist with packing, cleaning and even emotional support during the move.
Consider your new home. Before you start packing, consider the size and layout of your new home. This will help you determine what items to keep and what to let go of.
Sell or donate items you no longer need or use. This can be a great way to pass on your belongings to someone who will use and appreciate them. Consider hosting a garage sale, selling items online or donating to a local charity.
Take care of yourself. Be sure to get plenty of rest, stay hydrated and take breaks as needed to remain energized and focused.
KEEP, SELL, GIVE AWAY OR TOSS?
Stay organized and on track by going through your belongings room by room and sorting them into four categories: keep, sell, donate and discard. Items such as family heirlooms or personal mementos may hold significant emotional value. Taking photos or creating a memory box can help preserve their sentimentality.
Be honest with yourself about what you need and use and consider these questions: Am I honoring my loved one by keeping this? What's the sentimental value of the item?
When was the last time I used this item? Will I have space for this in my new home?
Can this item be replaced? Will my children or grandchildren appreciate this? Does this item fit my new lifestyle? Can this item be donated or sold?
FIVE TIPS FOR GETTING YOUR HOME READY TO SELL
Declutter and depersonalize. Remove personal items such as family photos and heirlooms and streamline your belongings to make your home feel spacious and inviting to potential buyers.
Make repairs and updates. Minor maintenance and updates can go a long way in making your home more attractive to buyers. Consider fixing leaky faucets, repairing holes in walls, replacing outdated light fixtures, replacing broken tiles and adding a fresh coat of paint to walls and trim.
Stage your home. Staging your home involves arranging furniture and decor to showcase its best features and appeal to potential buyers. Consider hiring a professional stager or using online resources to learn how to stage your home effectively.
Hire a reputable real estate agent. A reputable real estate agent can guide you through the selling process by helping you price your home, marketing it effectively and negotiating with buyers.
Consider a pre-listing home inspection. A pre-listing home inspection can help you identify any issues with your home before you put it on the market, which can prevent delays and unexpected expenses during the selling process.
NEXT-GENERATION SENIOR LIVING AWAITS
Downsizing and getting your home ready to sell is more than organizing and paring down your possessions. It's about releasing your past to make room for a new active, rewarding and streamlined lifestyle.
While the moving process can be daunting, The Carrington's move-in professionals provide planning and support for an easy transition into a secure and enriching retirement lifestyle. Plus, our rental model and simple monthly payment help you stay in control of your finances without entrance fees or buy-ins.
From day one, you can embrace the new opportunities and possibilities of downsizing and take full advantage of amenities that support your self-reliance and well-being. Contact us to learn how The Carrington can make your move simple and seamless.
Featured Image: Shutterstock