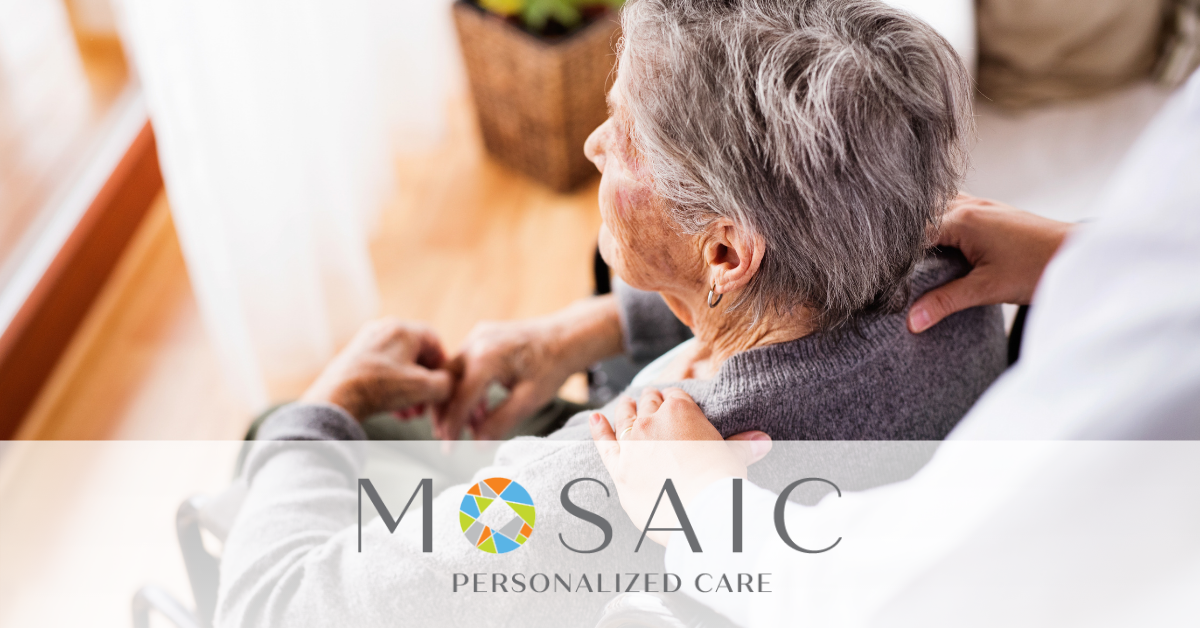 A Multi-Faceted Approach
The Carrington cares about its residents—where they are in life, their specific needs and how these needs will be fulfilled. In addition, we believe there's no such thing as one-size-fits-all. Every resident is different and may require varying degrees of assistance throughout the aging process. With this in mind, The Carrington has created an all-encompassing health care approach–known as the MOSAIC Personalized Care program. This approach is person-centered and designed to give families confidence that their loved one is well cared for while continuing to receive unique opportunities for life enrichment.
Introducing MOSAIC Personalized Care
MOSAIC Personalized Care (MOSAIC)
is a progressive approach to highly individualized care for those experiencing signs of cognitive decline or memory loss. Why MOSAIC, you might ask? Dating back to early Roman times, mosaics were made up of hundreds, sometimes thousands, of tiny colored stones and gems called tesserae. Mosaics would show pictures and tell stories of Roman history and everyday life. Today, mosaic is an art form using small pieces of material placed together to create a unified whole—a beautiful, complete image.
As a name for The Carrington's MOSAIC Personalized Care Program, the term emphasizes the program's multi-faceted approach. As seen in our infographic, MOSAIC supports the distinctive, colorful elements of an individualized, person-centered lifestyle filled with comfortable and pleasurable experiences for residents.
Unlike standardized care programs, MOSAIC offers three levels of care. Each level of care offers a full range of customizable services to meet individual wants and needs. These three levels are:
Promenade
Innovative Home Assist Services. This care level is designed to help residents remain as independent as possible. Whether in Independent Living or Assisted Living, the Promenade goal is to maintain the resident's level of activity and involvement with a little extra assistance. So, they can continue doing the things they enjoy.
In ancient times, a walkway was often paved in mosaic tiles and called a promenade. Therefore, in The Carrington's MOSAIC program, the Promenade level of care relates to the varied, individualized activities, lifestyle and socialization available in this early-onset stage.
Mezzanine
This level offers a bridge between Assisted Living and Long-Term Memory Care. Mezzanine is composed of a dedicated neighborhood of private apartments where residents receive just the right amount of individualized care. In addition, Mezzanine provides personalized therapeutic and engaging activities specifically designed for those with memory loss.
Defined as a low story between two main stories of a building, a mezzanine is in-between two other floors. Within The Carrington's MOSAIC Program, Mezzanine is the middle ground between Independent Living/Assisted Living and full Memory Care.
Tessera
This progressive approach to Long-Term Memory Care features private studios and semi-private apartments in a secure neighborhood-style setting. Residents feel at home as they receive compassionate, dignified support via a holistic approach that addresses physical, emotional and spiritual needs. Individualized and person-centered, Tessera also incorporates innovative programs that encourage interaction, promote wellness and minimize stress.
This appropriate name is derived from the art form mentioned above—small blocks of stone, tile, glass or gems used in the construction of a mosaic to form a complete image. The name relates so well to The Carrington's creative approach to long-term memory care, engaging residents in activities and opportunities that enhance their lives.
Not Just Progressive, But Also Unique
As you can see, The Carrington has taken an innovative step forward in providing area seniors the memory care support they need, when they need it. Additionally, the entire MOSAIC concept is also unique to North Chicago—and exclusive to The Carrington. MOSAIC's highly trained staff members are passionate about making sure that each day brings new opportunities to enrich the lives of memory care residents at every MOSAIC level. Their person-centered philosophy is grounded in the belief that the abilities that remain are far more important than what is lost.
This is a flagship senior living program developed thanks to the expertise of West Bay Senior Living, The Carrington's management company. West Bay Senior Living continues to position The Carrington as your trusted, forward-thinking resource for senior living.
Contact us online or call (847) 744-9469 today to find out more about MOSAIC and to request The Carrington's memory care brochure.