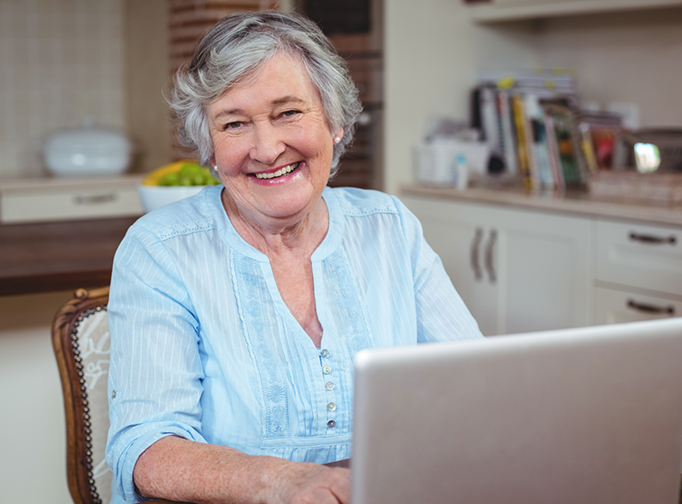 Let's talk tech and the importance of staying connected as you age.
For our purpose, tech refers to all forms of technology—smartphones, computers/laptops, Smart TVs, virtual personal assistants like Amazon's Alexa and Google HOME, important health and safety monitoring devices, and programming resources like FaceTime on your smartphone, video conferencing platforms like ZOOM and Skype, virtual reality goggles for travel experiences, and webinar and online learning resources for everything from college courses and travel to medical and financial advice.
Technology & Today's Seniors.
The presence and threat of COVID-19 throughout our country has caused many people—especially seniors—to jump-start their technology skills. In order to continue to communicate with family, friends and professional advisors while honoring stay-at-home directives, they've increased their usage of FaceTime and learned how to ZOOM and Skype. Tele-medical appointments have become almost standard—increasing convenience and efficiency for seniors, while maintaining effectiveness.
Researchers at the University of California-San Diego tell us that programmers and software developers recognize the impact seniors are having on their marketplace—and it all began well before COVID-19. Developers continue to scramble to find helpful platforms and tools that are more user friendly for seniors. Wearables and apps for smartphones can now monitor everything from blood pressure, to your pulse and CPAP; activate your lights at night, your thermostat and your vacuum cleaner; adjust your satellite dish, turn on your fireplace, and lock and unlock your doors. These devices and their potential are expected to facilitate even greater opportunities for independence, self-management, and the overall well-being of older adults in the future.
And let's not forget about technology programming in senior living communities that promotes learning and FUN for residents. Talented and professional wellness and activity directors like those at The Carrington at Lincolnwood incorporated unique customized online activity during the peak of COVID-19. Seniors nationwide took advantage of activities like the following on smartphones, laptops and Smart TVs:
Getting Physical: strength training, aerobic tone & movement, stretching, rhythm & balance.
Mind Games: words in a word, name that quote, other mind-challenging online games.
History & Science: nature talks, historical facts, news & current events, universe talks, tech talk.
Culture: book clubs, play reading, poetry, name that tune, touring the 7 Wonders of the World, virtual music concerts, easy listening music, downloading and watching movies.
Reflective Times: weekly church services, morning reflections, spiritual readings.
Being Crafty: cooking & baking programs, sewing & quilting, fishing tutorials, photo album creation.
Shop 'til You Drop: a tour of helpful commercial sites for everything you need or want.
The possibilities are endless when it comes to the role technology could play in your life. Every senior living community offers something different. As a resident-centered community, The Carrington focuses on the wants and needs of its residents. Our residents are progressive. Innovation and technology are important to them.
At The Carrington, events have been held lately via ZOOM, and residents in various neighborhoods arrange informal ZOOM gatherings to keep connected with neighbors. Communication flourishes via updates on The Carrington's internal TV channel, website, and by email. You can easily see how physical, intellectual, social and spiritual interaction in activities and programming are important to these vibrant residents.
Tech Concerns On Seniors' Minds—RESOURCES To Help.
Even though the future holds endless opportunities for today's seniors to expand their technology skills, studies show most are commonly concerned about three main things:
I'm too old to get started now.
Where can I get tech help when needed?
Privacy, security and online fraud worry me.
My Grandkids Now Call Me "Techie."
You're in good company! Numerous recent AARP studies show that technology usage among older adults age 50+ continues to climb in home computers, laptops, smartphones, and in other areas you just might find surprising—virtual reality, home assistant devices, and Smart TVs (one that's digital and Internet-connected). In 2000, 14% of those ages 65 and older were internet users; now 73% are—and more seniors are joining in every day. Smartphone ownership was uncommon for all ages around the turn of the 21st century. Now 53% of people 65 and older are smartphone owners.
This increased usage is having a significant impact on the American economy, too. The AARP predicts that by 2030, nearly 132 million Americans age 50+ will spend upwards of $84 billion a year on technology products. The AARP's interesting and colorful infographic tells the story by the numbers.
Sometimes I Get So Frustrated!
Technology is used in every facet of life because it can provide the speed, connectivity, and efficiency to make tasks easier—pretty good reasons for staying connected as you age. You may be saying right now, "Sometimes I get so frustrated with technology. I want things to be easier and faster, and I DO try to get better at it. The fact is, I'm unsure of my ability and this leaves me unmotivated to keep at it." Don't lose faith! Technology doesn't have to be disconcerting. As an older adult, don't underestimate how technology can help you. Continue to dig in, learn a new computer skill and discover innovative ways to connect with friends and loved ones—electronically.
Where Do I Get Computer Help?
Many seniors today left the workforce before technology was integrated into daily work, leaving them without the vocabulary or basic skills needed to function in the digital age. To increase your familiarity and comfort, first go online and get familiar with a few terminology basics—like types of computers (desktop, tablet, smartphone, laptop) and WiFi.
Now, to get help, family members—especially the grandkids—and computer savvy friends are an obvious choice for the basics. There are lots of other places, too:
Research online services and instructional videos that allow you to go at your own pace.
Visit Senior Planet for a short tutorial on Video Chat with ZOOM.
Watch for local classes or senior workshops in your area.
And if The Carrington is your home, you can depend on helpful support from the staff—just ask.
Finally, the old "trial and error" method really does promote learning. Just save yourself a little time each day to get on your computer, iPad, laptop or smartphone and just hunt and peck around. You'll be amazed at what you'll learn—all by yourself!
 I Don't Want To Get Ripped Off!
If there's a challenge or concern among older adults using technology, it's still privacy and security. Nearly 1 In 5 indicates they have low confidence in their safety online. This concern has increased the need to provide more education to older adults on safe tech practices. More and more of these services are being developed and made available every year.
Hopefully, we've given you a little encouragement, comfort and inspiration that will inspire you to stay connected through advancing technology. Please know you can stay in touch with The Carrington, too, by virtually exploring our website and Facebook page. The Carrington marketing team is also using technology for virtual community tours and conferences based on your comfort level, of course. Call us at (847) 744-9469 or complete our online form to arrange for an appointment.