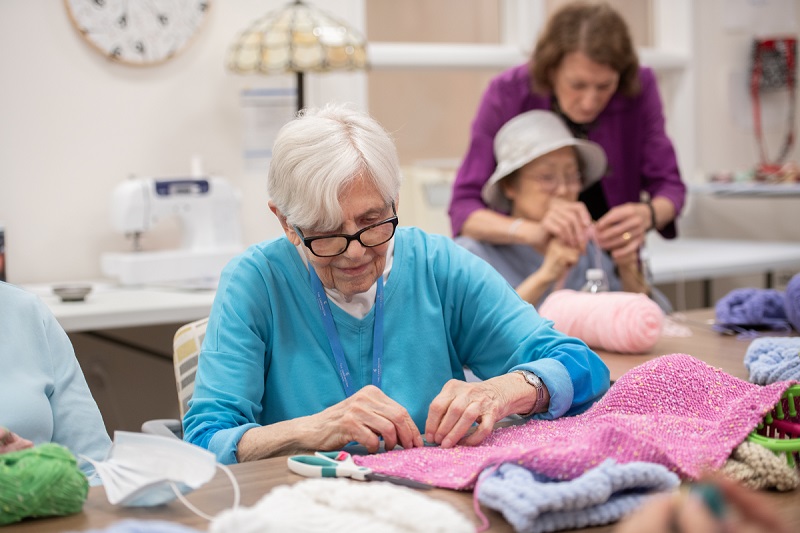 Residents at The Carrington at Lincolnwood have, over the years, created a tradition of supporting those in need. And they continue to prove that helping others while staying active, purposeful and fulfilled is one of the many joys of living at The Carrington.
As we come closer to what is often called "the season of giving," residents continue looking for ways to get involved in and show support for the larger community. But they don't need a calendar or a specific holiday to spur them on to action. Here's a quick look at a handful of The Carrington's most recent outreach projects and opportunities.
The Bag Lady. Resident Mary Ann Dolan heard of community need in the surrounding area and sprang to action organizing other neighbors and friends who wanted to help. Numerous food pantries and "Friendly Fridge" dispensaries in the neighborhoods surrounding The Carrington needed brown paper bags. Mary Ann's encouragement and organizational skills have, to date, resulted in more than 1,450 brown bags donated to a local couple for distribution. Her project has affectionately earned her the name of The Bag Lady!
Girls 4 Ghana. Through the Central United Methodist Church in Skokie, Jayne Epperson heard of a very special need for school-aged women in Ghana. In just one day, The Carrington residents came together to assemble 300 reusable feminine hygiene product packages so the girls in Ghana could go to school safely and with dignity. Check out our Facebook page to see The Carrington volunteers at work.
Project Linus. So many residents at The Carrington have tremendous sewing and crafting skills. They have put these talents to good use for Project Linus, a nationwide organization that provides new handmade, washable blankets for seriously ill and traumatized children from birth to 18 years of age. Quilts, tied comforters, fleece blankets, crocheted or knitted Afghans, as well as receiving blankets in child-friendly colors are created by The Carrington "blanketeers" who were more than ready to jump in and help out.
Scooters for Parkinson's. The Carrington resident, Doug Kritz likes to tinker with and refurbish motorized vehicles for seniors. He has turned his skills into a way to contribute to the Parkinson's Research Foundation. As Doug repairs, restores or sells motorized carts, wheelchairs or scooters for other residents at The Carrington, all proceeds go to his special Parkinson's charity.
The Carrington's Got Talent. Recently, The Carrington residents and staff came together to showcase their musical, vocal and dramatic talents for a fun community event that doubled as a fundraiser for the Alzheimer's Association. The evening also involved a raffle with all proceeds going to the charity. Entertainment and philanthropy came together in a fulfilling event for all participants.
As we get closer to the holidays, you can bet The Carrington residents will be coming up with even more ideas and ways to give back to their community. Past efforts have included focusing on addressing food insecurity through organized drives to benefit area food banks and holiday gifts/toy drives for children. Plans are formalized for these initiatives in 2022, and The Carrington staff will be right there to support these acts of caring and kindness.
Make plans to visit The Carrington soon to experience the wealth of activities for seniors offered within a true culture of giving. Contact us!