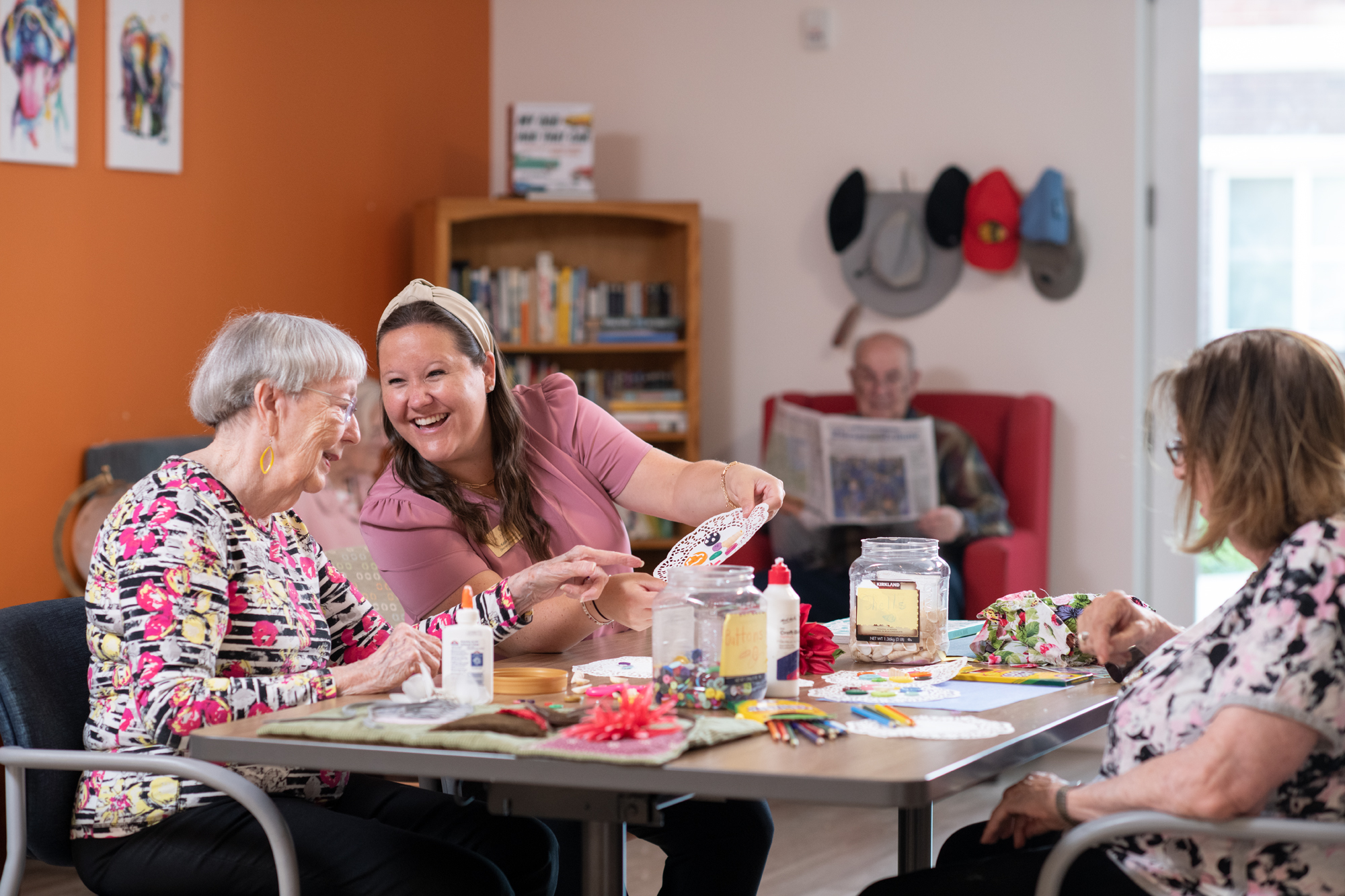 The Carrington at Lincolnwood is a reliable educational resource for all adult children, spouses and other loved ones of older area adults needing extra support due to dementia or other cognitive issues. Whether your loved one lives at The Carrington, or elsewhere, we're here for you, offering supportive resources that have a positive impact on quality of life for your entire family. Here, we provide tested and helpful tips on activities you can engage in with your loved one with dementia.
Laying a foundation for activity with your loved one.
We've learned through research and hands-on experience that two guidelines specifically form the basis for an activity program for your dementia-challenged loved one:
• First of all, you cannot always depend upon past activities your loved one used to enjoy. Chances are they have various cognitive phases ahead of them. The best results for engaging in activity will come when you build upon what your loved one enjoyed in the past as you introduce them to new activities you can do together.
• Secondly, the collective professional experience of our staff at The Carrington has proven that sensory activities (taste, smell, sight, hearing and touch) facilitate the most satisfying and productive responses as one works to engage in activity with a loved one.
Next, we'll share some specific suggestions, activities and resources that will enhance your interaction and relationship with your loved one with dementia.
How we promote Memory Care activity at The Carrington.
Katie Kolzow, Director of Memory Care at The Carrington, gives us some insight into her basic philosophy for working with seniors that have cognitive issues or dementia. Her suggestions will help you relate to your loved one, and better choose rewarding activities to do together.
"I always set a positive mood for interaction," says Katie. "Seniors are going to respond back to how you are approaching them. I state my messages clearly and ask simple questions. I provide ongoing empathy, compassion and kindness while interacting with my Memory Care residents. I connect with the residents, assess their behavior, respond appropriately and evaluate what works."
Katie confirms what the experts say about how rewarding it can be as a caregiver to personally engage in activities with your loved one with dementia. "I enjoy watching their faces light up when they do activities," she says. "I find they cherish the time, attention and companionship from another person. Structure and continued brain stimulation are very important, too. I try to create positive personal experiences by letting my Memory Care residents be who they are and encourage their independence through activities."
When it comes to specific activities that Katie and her staff suggest to spouses, family members and friends who want to continue an engaging relationship with a senior with dementia, she offers the ideas that follow. All are activities that Katie and her staff use and have been successful with at The Carrington. And spouses and adult children often join their Memory Care loved ones increasing the benefits and rewards for all.
Try these sensory-focused activities with your dementia-challenged loved one:
• Trivia games, jigsaw puzzles and bingo
• Gardening (A special plot that's "theirs" like the Community Gardens you'll find at The Carrington.)
• Chair exercises (Safe, and as an exercise, can help with agitation.)
• Crafting, creating a shadow box, even clay or playdough (Crafts often touch all the senses.)
• Cooking and baking (Fresh-baked bread, cookies—just the aroma can have a calming effect.)
• Singing and music (Digital music players with earbuds have been very helpful.)
The above sensory activities have the following benefits:
• Stimulate cognitive function
• Provide a source of focus
• Build a feeling of productivity and accomplishment
• Foster independence
• Work with different senses (touch, taste, sight, hearing and smell)
• Help reduce agitation and behavioral issues
• Provide an opportunity for self-expression and more
If you'd like to learn more about Memory Care at The Carrington, visit our website and then Contact Us so we can schedule an appointment and a personal tour for you.