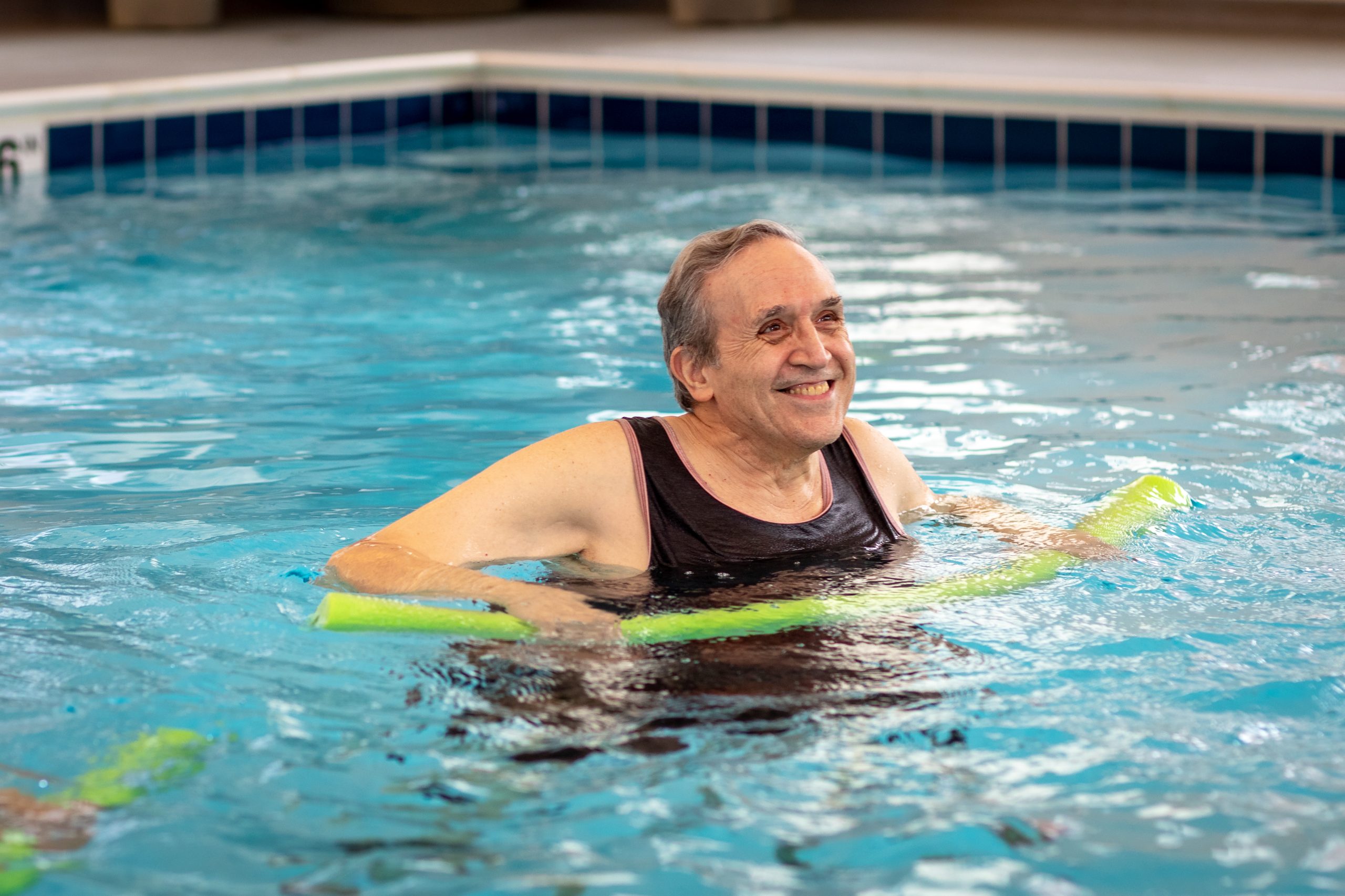 As the hot summer weather rolls into Chicagoland, you may find your normal outdoor fitness routine curtailed a bit—it's just too uncomfortable and exhausting to be outdoors. Arthur King, Fitness Director at The Carrington at Lincolnwood, has an exercise routine that's the perfect activity for seniors and is guaranteed to keep you fit and cool during the summer months—Hit the pool for water aerobic exercises!
Why is water aerobics the perfect solution for summertime fitness?
"Walking and moving in water is great for weight management and to restore energy from injuries," says Arthur. "It's easier for feet, knees and hips than walking on land." And in the summer months, you can be inside and in WATER!
Other fitness experts join Arthur in his endorsement of water aerobic exercise as a safe, effective and low-impact fitness plan for overall senior health and wellness. Here's what they say about additional benefits:
   WATER EXERCISE:
Can relieve arthritis and joint pain. It puts less stress on your body, and the buoyancy of the water helps you lift your arms or legs, thereby reducing pressure on achy joints.
Promotes balance and reduces the chance of falling. Not only does water act as a great resistance for exercise, but, in a way, the water also cushions and protects your body.
Increases flexibility and balance; decreases bone and muscle loss. Aerobic exercise eliminates the need for the strength-training equipment you use in the gym. And you get the same workout results. The only added "water exercise equipment" you may want to invest in is a pair of water shoes if you're bothered by the plaster on the bottom of the pool.
Offers more resistance than air. Simply walking in water will burn more calories than regular walking. Interesting fact: underwater treadmills offer more weight loss benefits than land-based treadmills–according to research conducted by the Arthritis Foundation!
So how do you get started?
Again, we look to Arthur for guidance. "If you have access to a pool or a membership swim club, you're set," says Arthur. "Residents of The Carrington enjoy access to an indoor swimming pool and helpful aquatic exercise options for individuals or groups as part of our resident-centered activities designed for seniors."
Arthur suggests that individual swimming for 30 minutes in one stretch is most beneficial in capturing the maximum benefit level of aerobic exercise—flexibility, strength, tone, cardio boost and even mental health when it comes to reducing stress.
Got a pool? Get started today . . . with these popular and basic aquatic exercises that require no equipment:
Aqua Jogging. Designed to get the heart rate up and keep it up. Jog through the water from one side of the pool to the other. This exercise can be simplified by power walking back and forth in the pool or jogging/marching in place. Lift those knees for the best workout. Waist-high water is easier when you're just starting—move to more shallow water as your legs get stronger.
Flutter Kick. A great low-impact cardio exercise. Perform a front float with your head above the water while holding onto the side of the pool. Flutter kick your legs at a steady tempo that gets your heart pumping but does not tire you out too quickly. You can also do this one floating on your back, arms outstretched, holding on to the pool's edge or sitting on the pool steps. Start at five minutes and increase your time as you build stamina.
Leg Lifts. Works the legs, improves balance and strengthens your core. Stand in the pool – waist-high. Lift one leg out to the side and back down. Switch to the other leg. Do three sets of eight repetitions each.
Push-Ups. Builds arm, chest and shoulder strength. Stand at the side of the pool and place your hands a little wider than shoulder-length apart on the gutter or edge of the pool. Bend your arms and lean in toward the wall, then push yourself back out. Do three sets of eight repetitions each.
A Fit—and COOL—Lifestyle!
Residents of The Carrington lead an active lifestyle and like to stay fit. This approach to senior living often requires that they adjust to the seasons to meet their wellness goals. The staff and incredible physical resources and amenities throughout the community help all community residents meet their individual goals. The Carrington is an extension of their current way of life—we just make it a little easier. Visit us soon so we can show you what we mean.
If you're interested in trying out one of our water aerobics classes at The Carrington, fill out the contact form below and mention "Trial Class Pass" in the comments!