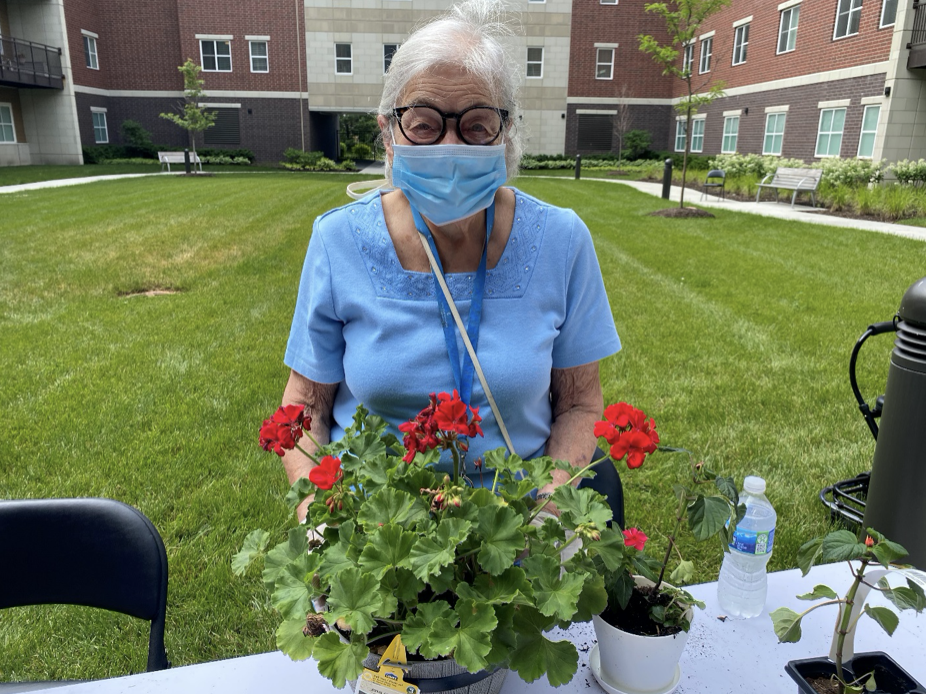 READY. SET. GROW. At The Carrington at Lincolnwood, this has become the Spring 2022 rallying call for the newly organized Gardening Group. Spinning off of the community's innovative Nature Club established in the summer of 2021, the Gardening Group currently has 10 eager founding members/residents of The Carrington. This spring and summer, these horticulture hobbyists will cultivate, plant, nurture and grow vegetables, flowers, and even butterfly and bee attractors in eight double-wide gardening beds that will make up The Carrington community gardens.
"We're READY and getting SET," says Julianne Arvizu, Life Enrichment Associate at The Carrington. "We currently have spots for 16 gardeners, and 10 have reserved their beds already. In April, we should be up-to-speed, and who knows? We may have to scale up with more beds in years to come."
Establishing a Community Garden Within a Senior Living Community is a Fulfilling Story . . .
. . . and to help tell The Carrington's community garden story, we called upon Jackie Favish, resident since November 2020.
"'Is there a garden plot?' was one of the first things I asked when Richard and I reached the final decision-making stage on spending our future at The Carrington," Jackie says. "For two years, we watched this new, bright, light senior living community come to fruition in a neighborhood we already knew a lot about. We did our research and there was no other community like it in the area. We felt it would be a great place to start a new life after maintaining two residences—one in Illinois and one in Arizona—for 30 years."
A Seedling Idea Starts to Grow. At the time Jackie and Richard moved in, a community garden was just a seed, so to speak, in Jackie's mind. Then, eight months later, Julianne Arvizu was hired for the Life Enrichment department at The Carrington. "We offer very resident-centered activities here," Julianne says. "We listen to what our residents used to do, what they want to do, and what they find interesting. When older adults move from homes they love to a senior living community, there can be a sense of loss. So much is left behind, along with activities that just aren't at play anymore."
"If residents had tended to gardens at home, our hope was to offer that again, on a smaller more manageable scale," Julianne says. "And the health and wellness benefits of gardening for seniors make the activity so fulfilling! Residents can enjoy being outside getting sunshine and lots of vitamin D, socializing with other residents, all while experiencing a sense of accomplishment—even if it's just pulling a few weeds! We want our residents to continue doing the activities they love, that bring them joy, normalcy, a sense of accomplishment. For instance, we hope our residents growing tomatoes will share them with others and talk about their garden beds and how much fun community gardening is."
The Experts Weigh-in. Recent studies by various experts including the National Institutes of Health, support Julianne's comments regarding the positive aging benefits of community gardening activities for seniors. Here are a few more benefits the experts stand by. Gardening is beneficial for seniors because it:
encourages the use of all motor skills
increases levels of physical activity, mobility and flexibility
improves endurance and strength
reduces stress, lowers blood pressure, slows heart rate and promotes relaxation
provides mental stimulation and interest in nature/the outdoors
can provide nutritious, home-grown produce
Community Garden Chatter Began with The Carrington's Nature Club.
Julianne shares that talk about garden beds began at a meeting of the Nature Club last summer. Residents started asking about specific nature-related topics such as plants and animals that could be found on The Carrington campus. "So, we did a walkabout with a local scout leader and arborist," says Julianne. "We also planted a butterfly garden and raised butterflies. The raised garden bed idea was one of the first things we talked about at an early Nature Club meeting."
Gardening is something many residents at The Carrington want to do. Several have balconies and can grow flowers and plants on their patios. But not everyone has a patio—one such resident is Jackie. "Gardening is my therapy," she says. "In my residence, I have three windowsills filled with plants. The first thing I do every morning—before I brush my teeth—is to check my plants to see "who" needs water and trimming. For me, it's my bonding with creativity through the earth. If you can create a flower, it's a true miracle. I've had this love of growing things since I was 7-8 years old and the excitement hasn't changed."
"The word 'garden' is magic to me," Jackie continues. "When I first mentioned it to Julianne, we started brainstorming right away about a community garden location, making sure the beds were accessible to residents with mobility issues. The site for the community garden has now been designated on the west side of the building—a short walk from the front entrance. At these early gatherings, we also started making plans for set up and gardening tools, and growing trellises we would need for some of our plantings."
A Team Effort. As a group—residents and staff alike—the team researched costs together and submitted a proposal for approval within the 2022 community budget. "We worked through every detail of the proposal together," says Julianne. "Some of our residents were, at one time, avid gardeners and are very knowledgeable! They were so helpful when it came to putting our proposal together. I still rely on them for inspiration, for information and to keep me moving forward on our goals for the garden."
Julianne is thankful for all the expertise and physical support the Gardening Group receives from The Carrington's landscaping and maintenance teams, too. "It truly is a team effort," she says. "Once we get all set up, we'll have outings to local garden stores so people can purchase supplies, be inspired, etc. The garden beds will then be in the hands of residents—with assistance from staff, as needed, for preparing the area by removing grass, adjusting water lines, preparing the foundation and filling the beds, etc."
A Busy Place in April and May.
The community gardens are truly a new amenity for The Carrington, and the Gardening Group is busy bringing their ideas and plans to reality.
Marigolds for Jackie. When she could not yet plant in her raised garden bed, Jackie began indoors last month by planting numerous marigolds in soil and surrounding them with tissue rolls to protect the plants and avoid disturbing the roots when they were transferred to her garden bed. "I'll line the perimeter of my garden bed with marigolds," she says. "They're colorful and perfect for keeping the bugs away. Right now, I'm planning for two tomato plants, as well."
Fostering Creativity. Don't be surprised if you find a few fairy gardens and garden gnomes interspersed among the plantings for flowers and veggies! Just for interest and fun!
A Home for Butterflies. In the central part of the garden area surrounded by the 16 beds, the Group will plant butterfly and bee attractors. These plants will be mostly colorful flowers and milkweed for the monarchs.
Take a Seat. The Gardening Group has plans for a garden bench, too, so all residents and their guests will feel welcome visiting and relaxing in this pleasant new addition to their community.
More Garden Excursions. Early in the planning stages of the community garden, the Gardening Group visited other retirement community gardens and borrowed ideas that are still spinning around in their heads. "On these visits, it was so good to see the enthusiasm of other senior gardeners," says Julianne. Expect The Carrington's community garden project to be ever-changing—so visit often.
There's Just One Word Left. And according to The Carrington Gardening Group, that word is GROW!
Visit The Carrington soon to see our new community garden and all The Carrington has to offer for a healthy, fulfilling senior living lifestyle. Contact Us!