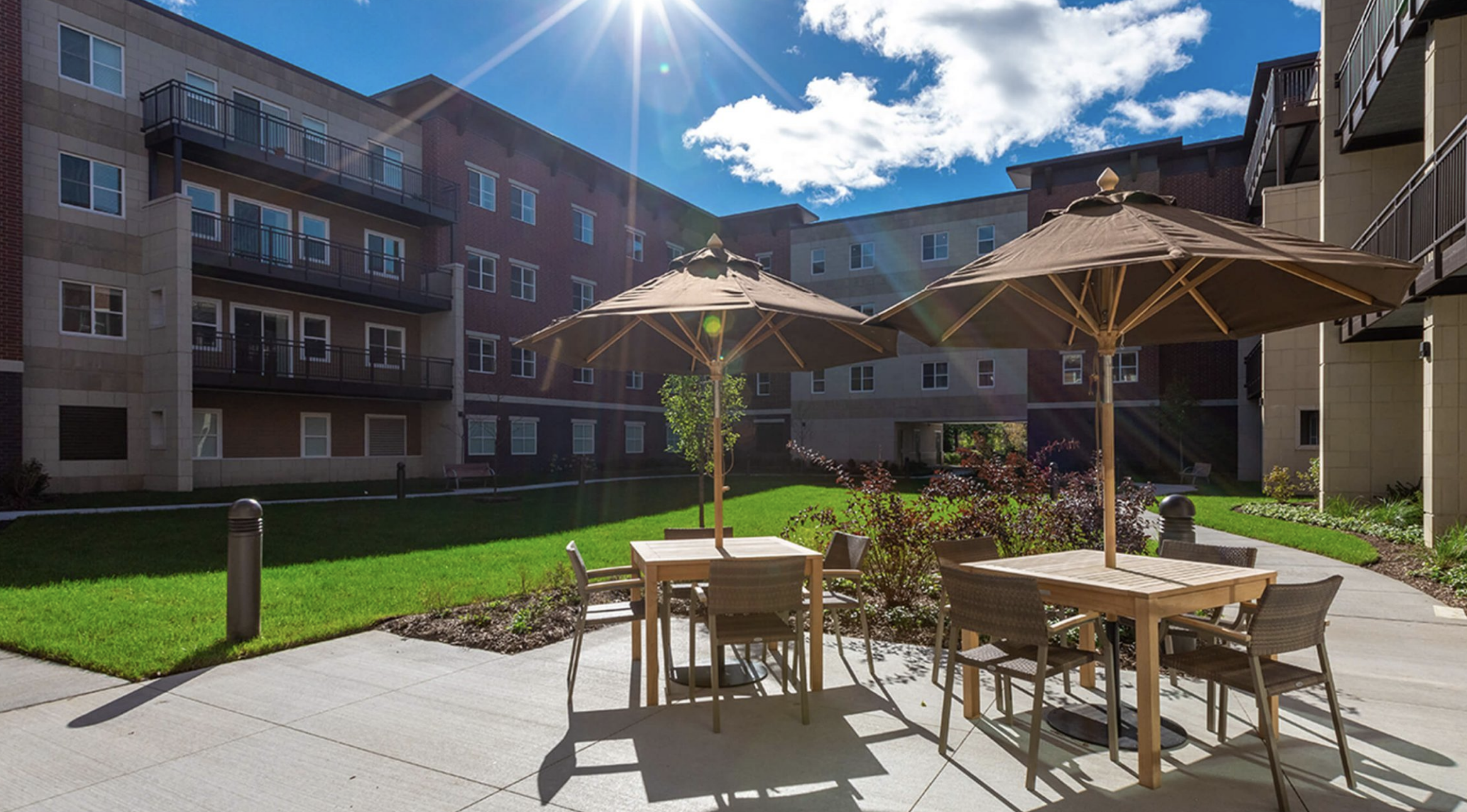 Just in time for the summer, our country is beginning to open up following months of health-directed protocols and varying degrees of lifestyle restriction. At The Carrington, you'll find seniors enjoying summer activities of renewed opportunity. The summer season and the many extra amenities and activities offered at the community are setting this season up for truly inspired living.
A New Normal Every Day
You hear a lot of people talking about a new normal these days. Luckily, it's always been easy to create a personal new normal every day of the year at The Carrington. We're a forward-thinking senior living community designed with exceptional—and personalized—amenities. Residents can create their own schedules thanks to the modern programs, activities and events available to support a variety of interests and hobbies. Here, it's easy to experience vibrant senior living on your terms.
These are just a few of the outstanding amenities and activities designed to offer seniors fulfilling opportunities for outdoor activity during the summer months:
Outdoor patios and courtyards for connecting with nature, neighbors and friends
Walking paths for leisurely exercise
And indoor engagement—all year-round:
A movie theatre and screening favorite films
A library with computer/Wi-Fi access
A full slate of interesting live lectures
A creative arts studio
An indoor pool for relaxing or exercising

 

A game room with pool table, poker tables, tv and games
Seating areas throughout the community to gather with friends, play bridge or read a book
A Premier Location For Senior Summer Activities
The Carrington's location also supports the active, inspired lifestyle today's seniors want, especially during the summer months. The community is located in Lincolnwood, a North Chicago suburb that borders Skokie and Evanston with easy access to the city. Along the Northeast Parkway, this great location positions residents within easy access to family, houses of worship and many cultural opportunities. As a green-space campus, the community sits on 13 pedestrian-friendly acres. So, residents are free to enjoy the sunshine and open outdoor space. And residents don't have to choose between favorite amenities and activities! The options are ALL here for the enjoyment of a senior living lifestyle developed to suit individual tastes.
Summertime At The Carrington & In Lincolnwood
Within The Carrington's close-knit community, you'll find neighbors who share a common goal to have positive experiences each and every day. Residents kicked off summer 2021 together in June with Jazz on the Lawn, featuring The Bobby Schiff Jazz Trio. This is just one of the outdoor events that May Granada, The Carrington's Director of Life Enrichment, and her programming staff have planned for residents this summer. 
"The summer programs offered by The Village surrounding The Carrington are outstanding, as well," says May. "Summer concerts, parades and arts & crafts fairs. Restaurants open to full capacity. It will be just nice to see people enjoying life again." Summer outings and events planned for residents of The Carrington will take advantage of all these, and more!
For instance, Ravinia, North America's oldest outdoor music festival presenting more than 140 different events throughout the summer, is popular with The Carrington residents. May shares that residents also enjoy trips to the Chicago Botanic Gardens, theatres, restaurants, and shopping in the Lincolnwood area.
How Do You Choose? Take It From Lynda.
Lynda Spychala will celebrate her third year as a resident of The Carrington this July. You can read Lynda's story of how she's built her own social and activity network from all that's available to her at The Carrington. "I didn't want a place that was highly scheduled," Lynda says. "At The Carrington, you're given options, and it's up to you. There's this club and that club. I can play bingo. I can play bunko. I can go swimming. And, if you don't want to join anything, that's OK, too. There's no one forcing you to participate. I like that freedom."
As Lynda mentioned, games like bingo, bunko and other games have become quite popular with many residents. May goes on to explain that mahjong and Rummikub are also popular within the real gaming culture that's developed at the community. May also mentions the popularity of summertime activities that include volleyball, any type of outdoor exercise and, of course, mingling outdoors with friends during happy hour.
Designed By Residents—For Residents
Residents at The Carrington have a great deal of influence on the activities, events and programs offered. A Resident Council meets periodically to discuss activities that interest and benefit the community as a whole. May then meets with the Activities Committee to plan and execute those activities. The goal is to maintain an upbeat and fulfilling lifestyle filled with programs, activities and events that support resident engagement, satisfaction and well-being.
"Our job is to build relationships with residents and cater to their wants and needs," says May. "My team and I accomplish this by providing engaging and meaningful activities that residents enjoy. Our Resident Satisfaction Survey indicates that it seems to be working. As a Life Enrichment Director, I take pleasure in seeing the residents' happy faces and knowing the impact of enriching their lives." 
Experience The Carrington for yourself this summer! Schedule a tour today by contacting us online to schedule a personal appointment.