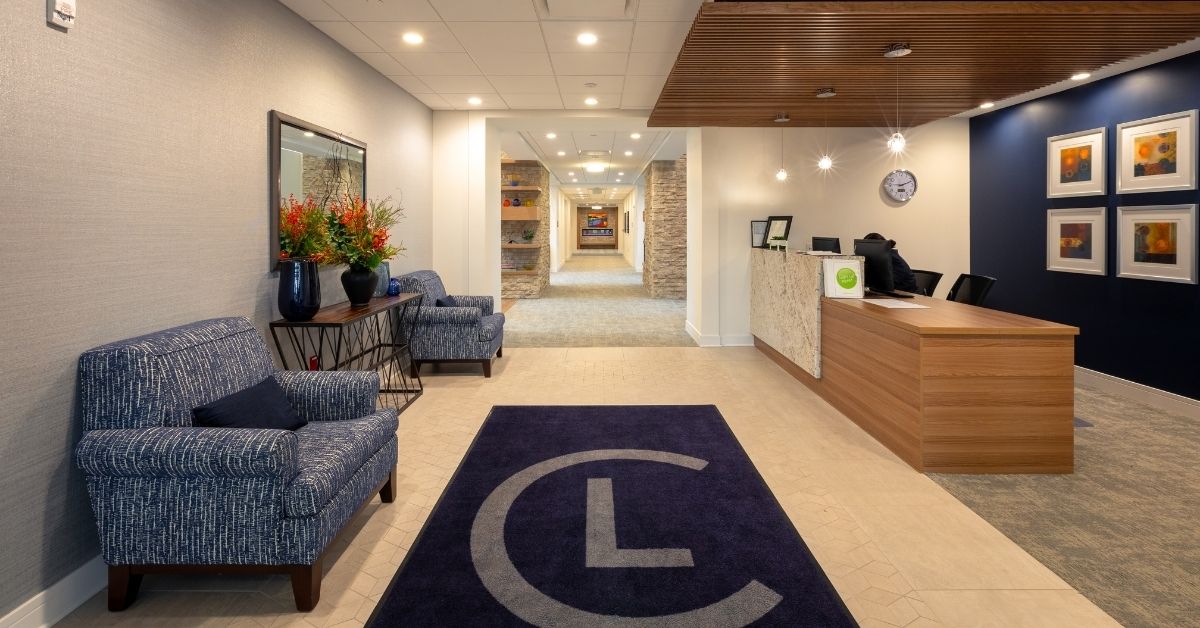 "We are shifting the reality of senior living, and allowing prospective residents to raise their expectations," said Stephen Kennery, executive director of The Carrington at Lincolnwood, as he addressed a packed house during their New Look at Senior Living marketing event last week. "We can show you that The Carrington at Lincolnwood costs less than you'd expect, offers more amenities than you could dream of, and provides services that are unprecedented."
The Carrington at Lincolnwood is a rental senior living community being built on a beautiful 13-acre campus in the heart of Lincolnwood. Set to open in January of next year, The Carrington will offer independent living, assisted living, and memory support.
"Surveys show that the most common objections for seniors who are considering moving from their home to a senior living community include expenses, leaving their home and neighborhood, and losing their independence. On the other hand, reasons that people do decide to move include fear of social isolation, freedom from home maintenance, the desire for amenities and activities, and the importance of a secure plan for the future," said Carolyn Driscoll, residency counselor for The Carrington. "We are effectively able to dismiss your misgivings while reinforcing your motivation for making a move."
"The Carrington is far more affordable than you might expect," said Kennery. "As a rental community, there is no buy-in or deposit that would likely run into six-digit figures, so you don't need to raid any of your investments for an entry fee. You simply pay a one-time $3,000 community fee, and a monthly rental fee." In addition to the lower cost of this option, the month-to-month rental means that residents are not locked into a contract requiring them to stay. Furthermore, because residents don't have to commit to staying, the staff is always on their toes to provide the very best service to keep everyone happy.
The independent living apartments at The Carrington feature nine-foot ceilings, full kitchens with stainless steel appliances and granite counters, walk-in-showers, free Wi-Fi and Cable TV. Many of the apartments have large patios or balconies. Within the community are four libraries, an indoor pool, fitness center, multiple dining venues, and a hair salon/spa. On the grounds will be gardens, a dog park, and walking trails.
Reserved under building parking will be available for residents wishing to have their cars at The Carrington, as well as ample outdoor parking for guests. For those not wishing to drive, The Carrington's ideal location places it close to shopping, restaurants, professional offices, and houses of worship as well as in close proximity to Chicago. "We offer free private transportation for outings and appointments, and will also have a special discount relationship with Uber and Lyft. So, residents will have an easy time and multiple options for getting to almost any destination," said Driscoll.
One of the greatest advantages of life at The Carrington is that the community will offer a unique Life Plan program. In addition to providing independent living, assisted living, and memory support on-site, the community will also guarantee a 15-day stay at a preferred provider if needed for skilled care. "What this means is that if a resident is discharged from a hospital visit before qualifying for Medicare or has exhausted their Medicare benefits but needs skilled care, 15 days will be fully subsidized by The Carrington," said Driscoll.
Attendees at the New Look for Senior Living were eager to set up appointments to visit The Carrington and learn more about their First Keys Club which provides discounts and priority reservations for the first people to make a refundable deposit to the community.
"Most often people who move to retirement communities say they wish they'd done so five years sooner because they so enjoy the socialization and amenities," said Driscoll.
See the story in Chicago Tribune.